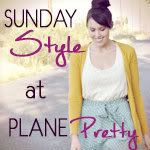 Sometimes cheetah print can be intimidating. When people normally think of cheetah, a loud, bold print comes to mind. However, cheetah can work as a neutral in our everyday outfits. Don't be mistaken-when worn a certain way it definitely screams "Look at Me!", but its black and warm brown color base can pull any outfit together. There are so many cute cheetah inspired clothes, handbags, and jewelry out there that can accommodate any style.
Cheetah Flats.
Shoes are a great way to enter the cheetah world. They provide a bit of edge to the outfit and work as accent against the basic sweater and jeans.
Cheetah Skirt.
This look is the perfect mixture of classy and sexy. It can easily be taken from day to night.
Cheetah Tunic.
This is the perfect example of cheetah as a neutral. The green pants are not competing with the cheetah top and they actually compliment each other quite nicely. Keep the accessories on this look simple and pair it with a great brown bootie.