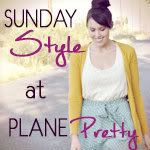 I've treated myself to a few goodies lately. I have been shopping more than ever lately & I definitely need to learn some self control. I always manage to find an excuse to make a purchase.
blue gem bracelet: Forever21 leather cuff: TJMaxx
I love a good arm party. I always wear my watch, but now I have been starting to wear these other two bracelets everyday.
Helianthe sneaker: Aldo
I really tried to resist the temptation to buy these...for about 5 minutes. I don't have a pair of shoes like these & I think they are adorable! They aren't for everyone, but they definitely fit my style
dog bone necklace: Tobi.com
I am obsessed with dogs, if you know me you know this. I thought this necklace was so cute and simple, so it could be layered with other necklaces
tweed jacket-Forever 21
This jacket was on sale, so I don't feel guilty about buying it. It's also a great addition to my work wardrobe
necklace: Forever21
I have been looking for a necklace like this for a while-it goes with everything!
faux fur vest-Urban Outfitters
I'm a little late on the fur vest train & by the time I wanted one, I couldn't find one anywhere. I like how this one isn't too crazy furry